I can't live without foundation – I don't leave the house without it and I am sure that I am not the only one. It doesn't have to be a thick second skin either, something as simple as a tinted moisturizer works as well. The best drugstore foundations, for my skin type, offer decent coverage but don't look cakey. They don't need to be too long lasting but should provide at least 4 to 5 hours of non patchy wear. This also means that I have a different fave foundation depending on how my skin is.
BEST DRUGSTORE FOUNDATIONS UNDER $10
The perfect foundation for me is something like the Nykaa SKINgenius because it hydrates without making me oily, goes from minimal coverage to medium, isn't patchy, sets well, and doesn't emphasize my pores. Most importantly, though, it's cheap! Because that one isn't available all over the world, I've compiled a list of the list of the best drugstore foundations under $10 that every makeup lover on a budget should check out –
MAYBELLINE FIT ME MATTE & PORELESS ($7.99)
I have waxed eloquent about this medium coverage foundation in my ride or die drugstore makeup post and I am going to repeat myself. I love this medium coverage gem from Maybelline because it has the perfect amount of coverage for work wear. I've never looked cakey in the foundation, provided I exfoliate my skin well in advance.
It is super matte though so you need to moisturize properly if you have dry skin. Oily skinned peeps need not worry because it will give you a satiny finish once your facial oils start coming through. It wears pretty decently on my skin for close to 8 hours and that's why it is one of the best drugstore foundations in its price range.
WET N' WILD PHOTOFOCUS ($5.99)
I found this one recently when my Maybelline one wasn't working as well as it usually does (summer has made my skin extra oily). Although it may not be one of my holy grail best drugstore foundations, it comes pretty close to winning that title. You need a mattifying primer and setting spray + powder with this one but the coverage is flawless.
There is a decent shade range and it lasts all day without cracking or creasing. Most importantly, it has buildable coverage and if you work in thin layers, it would give you that "your skin but better" look. If you have dry skin, I don't think you'd even need to powder this one. Once it sets, nothing can take it off by accident (except a good makeup remover obviously).
ELF ACNE FIGHTING FOUNDATION ($6.00)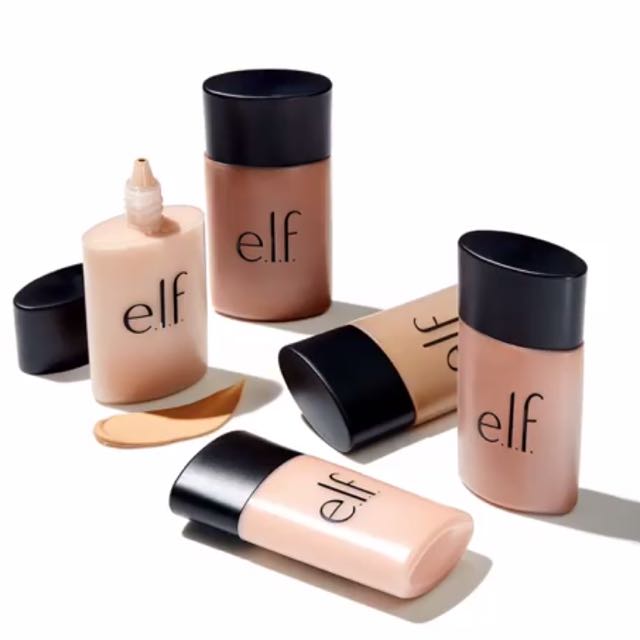 An oldie but a goodie, the Acne Fighting foundation from ELF only has 5 shades as far as I know but if you can find a shade match with this one, you would never leave its side. You'd be the Fanny Brawne to its John Keats, the mirror to its Dorian Gray. This is one of the few foundations that have never broken me out and that's probably because it is packed full of acne fighting ingredients.
From Salicylic acid to ensure your pores don't get clogged to Aloe that soothes redness, the ingredient list will astound you. I wish ELF had more shades for this and then I could recommend it to everyone and their mother. Currently, I find all the shades to be too pink and I have to spend some time getting this to work for me. If you have a pink undertone, this will be one of the top best drugstore foundations you have used.
MAYBELLINE FIT ME DEWY + SMOOTH ($7.99)
If you find the Matte + Poreless foundation too drying for you, I'd definitely recommend you give its dewy version a shot. This does essentially the same thing except it is heaven sent for dry skin. Dewy + Smooth from Maybelline will not emphasize dry patches on your skin but instead, give you an almost angelic glow. In the winters, when my skin is more combo than oily, I mix these two together and don't wear a highlighter, making this better than my high end best drugstore foundations.
Again, you need to exfoliate your skin properly before wearing this one. It can sometimes cling to extreme dryness on the skin. The shade range, as always, is okay with Maybelline. I have been able to always find a shade match by mixing two shades together.
LA GIRL PRO COVERAGE LIQUID FOUNDATION ($8.99)
This is an illuminating foundation that is, surprisingly, a hit for the sweaty summer months here. There are about 14 shades with a lot of options for people with medium skintone like me. It has a gorgeous and subtle glow to it and amazing blendability that makeup beginners will appreciate. I buff it on to my skin for medium coverage and then finish with a beauty sponge (I use real techniques).
Be careful about oxidization with this one because it definitely turned darker on me. I'd blindly recommend this to a person with dry skin and it is heaven sent for people who suffer from acne breakouts. It is also extremely long lasting once you set it with powder.
MILANI CONCEAL + PERFECT FOUNDATION ($9.99)
I can't say enough good things about this foundation. A lot of people don't like it because it is pretty thick in consistency but I don't mind it, personally. I use my beauty blender for the first base layer to keep it think and even with that, it gives me flawless application. I then buff over some areas where I need more coverage with a flat top kabuki brush that has been dampened with some setting spray.
The shade range is pretty good (but could be better) and it does not oxidize or look cakey when blended well. You always need to be patient with this foundation and use super thin layers. If you don't need that much full coverage, mix it in with some face oils to sheer it out.
REVLON COLORSTAY FOUNDATION ($9.00)
An oldie foundation for people who needed absolute full coverage, Revlon Colorstay was a skin savior for many of us acne sufferers back in the day. It is pretty similar to Milani's Conceal + Perfect except it's probably not that great in terms of the shade range. I think that most of the shades are too pink in their undertone which poses a big problem for yellow undertones like mine.
That being said, it's still amazing in coverage, doesn't budge all day and keeps you oil free for a long time. If you find the right shade in this one, grab it and never let it go.
NEUTROGENA HEALTHY SKIN LIQUID MAKEUP ($7.99)
If you're going through a bad skin phase where everything is breaking you out, you'll love this foundation. It is amazing for sensitive skin and blends pretty well even with active acne. Even if you are sweating through the summer heat, this would stay put and wouldn't budge. I would consider this to be a sheer to medium coverage foundation. Healthy Skin by Neutrogena doesn't settle into fine lines and wrinkles, so it's a good buy for ageing skin.
I like to wear this one when my skin is bad but I don't want to have cake-face. It looks pretty natural and everyday, and looks best for those minimal makeup days that make you look fresh and dewy. Beware if you have are looking for dark shades though, they have none.
COVERGIRL OUTLAST STAY FABULOUS 3 in 1 FOUNDATION ($9.39)
This is a full coverage liquid foundation that almost feels like a cream on top of your skin. I love that it hides everything and anything, no skimping on coverage from this one. The final matte finish looks best when you apply it with a damp beauty blender. While it may not be one of the most long lasting options out there, it is one of the best  drugstore foundations in its price range because of how light it feels.
It doesn't oxidize on me and I did notice that my pores looked pretty good when I had this on. That being said, it was a bit harsh for my sensitive skin to be wearing this 3 days consecutively because it broke me out. I use this every once in a while when I need coverage but also need to look natural.
RIMMEL STAY MATTE LIQUID MOUSSE FOUNDATION ($4.99)
This is a cheap cream-liquid foundation with an extra matte finish. Honestly, even I top this one up with some refreshing face mist because it is really matte. Apart from that, people might not like the squeezy tube it comes in but I don't mind it. I apply this with fingers, like a moisturizer and pat it into my skin.
It does not build that well unless you're working in extremely thin and blended out layers. I'd say it has sheer coverage, a little more than what a tinted moisturizer would offer. But it does stay on without becoming patchy and gives a natural, oil free look that lasts for 4 to 5 hours.
COVERGIRL SMOOTHERS SPF 15 BB CREAM ($6.99)
This one is essentially a tinted moisturizer that comes with SPF 15. If you're full coverage girl, you are going to hate this but for people who don't have a lot of blemishes, it's perfect. I'd recommend this BB cream for those who need to even out their skin tone and just have a bit of redness to hide. For anything beyond that, you'll have to use a concealer.
It's more suited for dry skin than oily skin because it adds a layer of moisturization to your face. There aren't a lot of shades for medium, tanned, and darker skintones in this one, and most of the shades are really pink I wish they'd come out with more shades because for a hot summer day, this is a great way to look naturally flawless.
ELF FLAWLESS FINISH FOUNDATION ($6.00)
With 11 shades and a frosted bottle, the look and feel of the Flawless Foundation from E.L.F is nothing short of high end. It doesn't feel like a drugstore foundation and when you use the pump (yes, it comes with a pump!) and feel the easy to blend texture, you'll fall in love. I love this because it is so easy to build up to full coverage with this one without looking cakey.
For deeper skin tones, ELF goes for the standard grey looking shade with a weird undertone that, so far, I haven't seen flatter any of my deeper toned friends. ELF, WYD! Except that major flaw, the foundation covers quickly, works well with both brush & sponge, and lasts for a good while.
MAYBELLINE DREAM LIQUID MOUSSE ($6.99)
Ah, I remember using this foundation when I was in school. It was fascinating to watch the mousse like consistency squirt out of the pump. If you have a need for light to medium light coverage, this would be perfect because it works well with concealers and does not cake up. I apply this one with my fingers, gently pressing and blending along my problem areas and sweeping outwards.
You don't need to be a makeup expert to make this one work, it's beginner friendly and lasts for 4 to 5 hours on me which is enough. If you top it up with concealer, powder, and setting spray, it might last longer. There are 12 shades in this foundation.
ALMAY SMART SHADE FOUNDATION ($7.99)
I'm pretty sure it was Tati Westbrook who gave this foundation the limelight it deserves. I don't remember if her first impression review was good or bad, but I came out wanting to try this foundation really badly. Eventually, I got my hands on it and I have loved it since then. The Smart Shade by Almay adjusts its shade according to your skintone. I don't know how well it performs changing shade into other people's skin tone but for me, the medium shade is perfect.
Unlike other best drugstore foundations that claim to be medium coverage but are actually tinted moisturizers, this one has a decent amount of coverage, especially when used with a buffing brush. There are 6 shades and yes, the shade range is abysmal. It comes in a no frills squeezy tube type packaging. Looks white-ish when it first goes on but starts melting into the skin and the perfect color match soon after, giving light to medium coverage.
L'OREAL TRUE MATCH SUPER BLENDABLE MAKEUP ($8.99)
For a long time, this was one of the best drugstore foundations and I used it all the time because it came in my perfect shade. Eventually, trying different things, I forgot about this one and it stayed at the back of my dresser, loyal as ever. I recently rediscovered this one and realised that it was still the best thing out there, with a thin consistency that blends effortlessly no matter which tool you use. When you go back to a foundation and it's still your fave, it's a keeper as are all the best drugstore foundations in this list.
It comes with sunscreen and the glass bottle is sans pump which I hate. I don't like the packaging at all because I have to use a palette to pour it out and I almost always end up using more than I want. That being said, it's a must have foundation for everyone.
FINDING THE BEST FOUNDATION
The rule is simple and easy to remember – find something that is one step below the coverage you need and build up from there. The best drugstore foundations in this list have one thing in common, they are all buildable and blendable. So, maybe you think you need full coverage foundation but what you really need is a medium coverage foundation plus concealer. Don't forget that you do have amazing concealers for extreme problem areas, foundation is just the base layer and it doesn't have to do everything.